Loyal clients are an incredible resource for businesses. Loyal clients are less expensive to reward than it is to successfully market to new clients. They also tend to buy more often and to spend more when they buy! Coming up with ways to appropriately reward loyal clients, however, can be difficult. You want something that clearly rewards their loyalty and shows how much you care without breaking the bank, all while being personalized to your specific clients.
1. Be Flexible with the Rules
This doesn't mean that loyal clients can do whatever they want or that the rules don't apply to them, it just means that it might be worth it, in the long run, to use your best judgment in certain situations rather than strictly adhering to every rule. Say a client needs to make a return or cancellation a day after the normal window for doing so, your staff should be trained to use their best judgment in these situations, and able to look up client information to make an informed decision. Cancellation and return windows exist for a reason, and you don't want anyone to abuse these services, but if you're working with a loyal client who has never had the rules bent for them before and has simply made an honest mistake, securing their continued business is likely going to reward you more over time than the cost of being flexible right now. As a general rule, informed flexibility can make everyone happy. It keeps clients knowing they'll be understood and taken care of, and it allows you to benefit from their continued business into the future.
2. Upgrade
An upgrade can often mean a big reward for your client with minimal to no additional costs to you. Think about an airline. Upgrading a faithful (or inconvenienced) customer to first-class on a flight with plenty of unclaimed seats in first-class isn't going to cost much at all, but may keep a customer from switching their primary airline for the rest of their lives! This same general rule can be applied to almost any customer service milieu. Whether you're running an exclusive airline or a local movie theater, the humble upgrade will often reap the benefits of a loyal and satisfied client for years to come, while the cost of an upgrade often remains anywhere from low to negligible to nothing at all.
3. Give them Early Access/Discounts
Make your clients feel special with exclusive access to features, early access to new products, and loyalty discounts. Sales, discounts, and anticipation-building product launches are all great ways to generate extra business, using these time-tested philosophies on select groups of loyal clients allows you to compound these benefits with the benefits of making your clients feel appreciated and rewarded. Not only are you marketing to a select group of people who you already know are interested, but you're also avoiding deal-hunters who will pick up your discounted products without paying any attention to your brand or generating any future business. Furthermore, you're simultaneously making your loyal customers feel special.
4. Give a Gift
One of the most effective ways to reward loyal clients is with, well, a reward! Giving your loyal clients any sort of gift or reward is a great way to show that you appreciate them and value their loyalty, and do so to such a degree that you've actually taken the time (and spent the money) to show it. These gifts need to be both personal to your business and proportional to the business that a given client brings in, unless, of course, you're doing a broader client-appreciation push (you don't want to reward a multimillion-dollar client with a $15 iTunes gift card, for example). Because the goal here is to make sure that clients feel individually appreciated, you don't want to send out something generic. That said, for the reward itself, most people prefer something with a real cash value. Gift cards are okay as long as you're sure that the client frequents those places, otherwise prepaid cards are your safest bet since they can be used just about anywhere.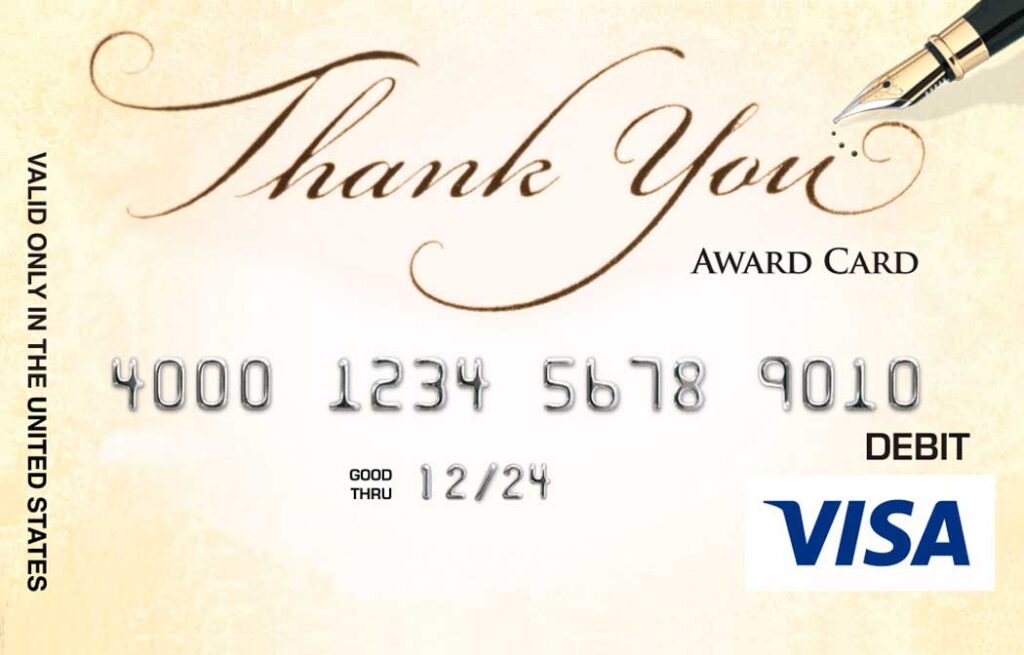 Your creativity comes in with what surrounds the gift. This is your chance to personalize it for your client. Whether you want to include a handwritten note, personalized message, or something else, it can mean a lot to your clients to know that you took the time to add that individualized touch.
5. Give the Gift of Kindness
If you're worried about the costs of sending a monetary gift, giving the gift of kindness is a time-tested way to keep clients happy. A "gift of kindness" is sort of a catch-all for all of the little ways you can show your clients you care without breaking the bank. And, not only can it take many forms, it's more successful when it does! From being proactive with your customer service, to messages of understanding during challenging times. You'd be surprised how effective it can be to simply take the time to showcase your appreciation for your clients.
Start Rewarding with Awards2Go
Take advantage our low per card fees, flexible load amounts, customized messaging, low cost company-branded design, rush delivery, and more.
Get Visa Cards