Give your employees and customers something special this year. Many of us know Thanksgiving is a national holiday, celebrated on the 4th Thursday of November in the United States every year. But it wasn't always like that until Franklin D. Roosevelt suddenly changed the tradition in 1941.
In fact, the history of Thanksgiving goes back to the early 1700s, and the very first one was by the Wampanoag Native American people and pilgrims of Plymouth (now Plymouth, Massachusetts). Both cultures came together to celebrate "the reaping of the harvest." Thanks to that moment, we can celebrate Thanksgiving.
And as a business executive or owner, it's time to plan your thanksgiving gifts for employees and customer promos or specials. But giving people a frozen or fresh turkey is old-fashioned and quite unrealistic since food requires proper storage.
Thankfully, you can hand out Thanksgiving gift cards. This is more practical, and everyone will appreciate it. In addition, it will save you the typical hassle involved with the traditional alternative. Gift cards allow everyone to buy whatever they want. Not everyone wants a turkey for Thanksgiving.
Choosing The Right Thanksgiving Gift Card
The best gift cards work at any retailer or store. More specifically, gift cards come in two main types: open-loop and closed-loop.
You can use open-loop cards with any vendor that accepts the payment processor, making everything more exciting. Most cards are Visa or Mastercard. In contrast, you can only use closed-loop cards at the issuing merchant. Examples of such cards include Starbucks, Best Buy, and Costco.
Top Thanksgiving Gift Cards To Buy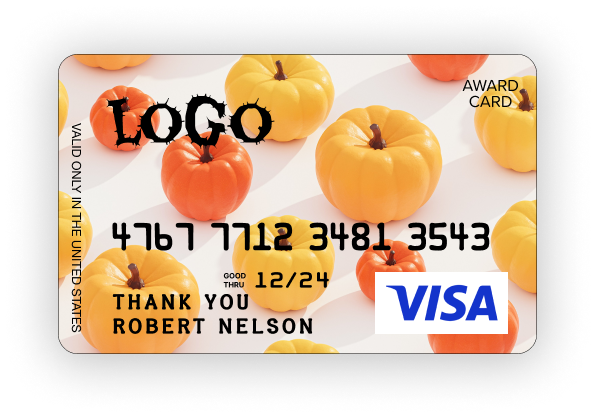 Order Cards
Here are the best Thanksgiving gift cards to consider.
Awards2Go Thanksgiving Gift Cards
This is specifically for businesses. Awards2Go provides open-loop digital and physical Visa prepaid gift cards you can use in various ways. Some use cases include employee and customer appreciation, holiday gifts, sales incentives, leads, rebates, refunds, contests, and expense control.
The solution is especially great for recipients since these cards are open-loop. They will work at any Visa accepting retailer in the United States.
Also, Awards2Go cards have a 'Buy Now Load Later' feature. That allows you to load your cards whenever necessary. That also means you can buy your gift cards even if uncertain about the amount needed. Just buy 100 gift cards and load them when you're ready. Cards can be loaded 24/7 in Client Portal with any amount card recipient deserves.
Awards2Go cards have the lowest per-card fees in the industry, and you can get volume discounts.
Amazon
You can find various digital and physical gift cards on Amazon from different vendors, but the eCommerce giant also offers its own cards. And this year, they have a pretty good number of Thanksgiving gift cards.
Customers can load anywhere from $1 to $2000 per card. Amazon cards also don't expire and carry no fees. However, unlike Awards2Go, they are closed-loop – which means your recipients can't use them with other retailers. Only Amazon.com and affiliated sites will process transactions using these cards.
Additionally, you must buy your gift cards from the corresponding Amazon site if you plan on using them in another country (e.g., Amazon France, Amazon UK, etc.).
These cards are best for individuals, not businesses.
Target
Target is offering the "Family Celebration" gift card this Thanksgiving. They come in physical or digital form, and you can load up to $500 maximum (minimum of $5). Recipients can also reload their cards at any Target store.
Like Amazon cards, they don't expire and typically won't lose value over time. However, recipients can only redeem funds at Target locations. Plus, you'll require a target.com account for digital gift cards.
As for fees, it varies but usually start from $4. However, the company did not share whether their Thanksgiving gift cards have fees.
Giftcardgranny.com Gift Cards
Gift Card Granny is an online marketplace providing open and closed-loop cards. You can buy various cards from different vendors, such as Walmart, Groupon, Xbox, and more. Some people also purchase cards for re-sell at the website.
But the amount you can load for most cards is between $10 and $500. Fees also vary a lot since you'll be dealing with different merchants. And much of the same goes for their Visa card fees. So again, it varies and increases based on the amount of money on the card.
Personalized Gift Cards for Thanksgiving
Choose between hundreds of prepared Awards2Go gift cards designs. But if you want to you can fully customize your cards, changing the look and feel as desired. Begin from scratch or create using a template. For example, you could change the graphics and texts or personalized messaging. Similarly, you can add your brand logo to every card, which is excellent for brand awareness.
Order Cards
Thanksgiving E Gift Card
In Awards2Go we can deliver E-Gift or virtual gift cards instantly via email, or we can give a link to share over the phone, or online in general to deliver your gift cards to recipients. These cards are also low-cost since there's no shipping necessary. Recipients can redeem them at online retailers.
Here are some of the Awards2Go design options available for Thanksgiving.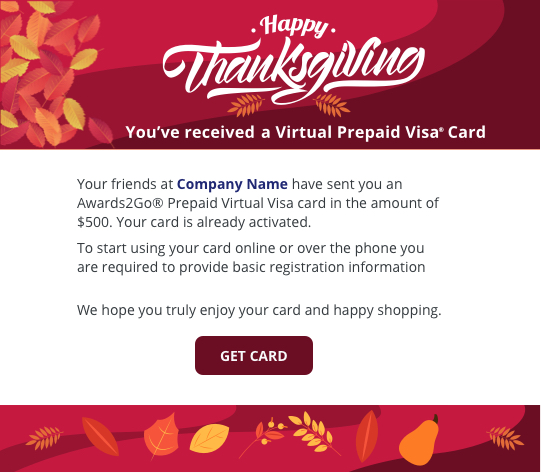 Choose from gallery
Top Thanksgiving Gift Cards for Employees
At Awards2Go, we specialize in providing bulk Visa prepaid cards to businesses. You can order unlimited cards for your organization, such as 100, 10,000, 100,000, 100,000,000, and above.
Happy Thanksgiving!
Remind your employees this Thanksgiving that you appreciate and value their hard work – an investment sure to pay off in a big way. Offer your customers gift cards they will be proud to give their family and friends.
Get a quote
Start Rewarding with Awards2Go
Take advantage our low per card fees, flexible load amounts, customized messaging, low cost company-branded design, rush delivery, and more.
Get Visa Cards