Throwing an office holiday party might be a company tradition that has persisted unbroken for decades, or it might be a rather more recent way your company has decided to give back to your employees and boost morale. Either way, with the COVID-19 pandemic continuing into the holiday season, coming up with an effective way to celebrate with and give back to your staff can be difficult when accounting for the safety of everyone involved.
Safety Protocols
Offices around the world have enacted various safety protocols in line with trusted health and safety organizations as well as national, state, and local guidelines. For many, this has meant a drastic change of pace in terms of the working environment. Whether your office has switched to a more remote workflow, a rotating schedule, or enforced social distancing and other safety measures, a party shouldn't be an excuse to throw all of those things out of the window. Doing so will only make your party less safe while undermining the hard work and adjustment difficulties throughout the past several months.
Traditional Parties
If you're working with a small enough number of employees and a large enough space to accommodate them while maintaining proper social distancing guidelines, a social-distancing party might be possible. Some offices with enough space for every individual are still operating in-person during COVID-19. But that doesn't necessarily mean that all such offices are equipped to host a party. Afterall, the socializing that goes on during normal office hours is tremendously different from the socializing that goes on at a party.
The CDC warns that the more people an individual interacts with, and the longer those interactions last, the higher the risk of COVID-19 spread. So while your standard safety measures might be okay for casually saying a quick hello to coworkers during normal office hours, they may not work for the sort of extended conversations with multiple people that tend to take place at social gatherings like holiday parties, so you will need to up your game when it comes to safety measures.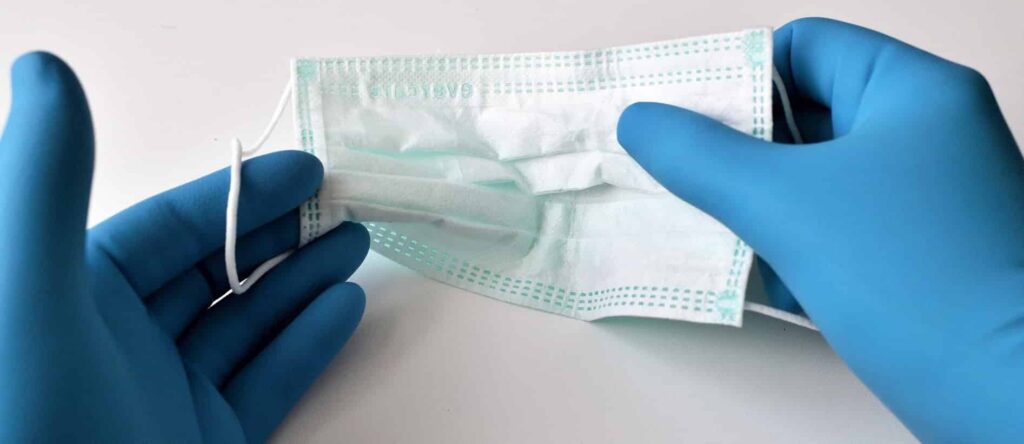 First, masks are a must. There's little else that you can enforce that mitigates the risk of transmission as quickly and effectively as proper face coverings. No one wants to have a party in a mask, but, at the same time, safety should be your number one priority. Don't relax your rules on facial coverings just because it is a holiday party, because, remember, the risks are even higher.
Second, make sure social distancing is enforced. You have to have enough space to accommodate everyone and make sure they all have adequate space around them. Holding conversations isn't always as fun when the chairs are six feet apart, but protecting your employees is far more important.
Third, you may have to go without food and drink this year. Although parties might not feel much like a party without it, these things can really increase your risks. Not only is there still the chance for surface transmission when lots of people are, for example, touching the same selection of food, drink, and accouterment, but also eating and drinking makes wearing a mask impossible. Instead, consider getting your employees a gift card to a restaurant they all like, or, if they have varying tastes, consider getting them a prepaid holiday gift card in lieu of the typical party spread.
Get Tested
Many companies are already doing regular testing. So if you are planning to have a company holiday event, try to align it with your testing schedule. If you're not doing regular testing already, then put together a testing plan in the lead up to your event.
If you can ensure all your guests test negative before attending the event, that can greatly increase the safety of it. But keep in mind that testing isn't foolproof, and just because you believe nobody in attendance has the virus doesn't mean you can ignore safety measures. Tests are not always accurate and it's certainly possible for someone to contract the virus between being tested and showing up at the holiday party.
Be sure to test if you're able to, and it's a good practice for companies still operating on-site anyway. However, if you really want to keep everyone safe, consider some alternatives to throwing an in-person holiday party this year.
Virtual Parties
Virtual parties are the safest option for your celebration. The CDC states that there is a higher level of community transmission in a physical area where a gathering is held and that virtual parties, unsurprisingly, come with the lowest risks. In fact, having a virtual party can avoid those risks entirely. Although virtual parties don't offer the same experience as a traditional in-person party would, they can still be an effective substitute.
Keep in mind that any in-person party these days will also not offer the same experience as a typical party of years past, with masks and other safety protocols altering the feel of the party anyway. So a virtual party could easily be more "off the hook" than an in-person party with no food and everyone wearing masks shouting at each other from 6-feet away.
Besides being your safest option, virtual parties also open up a whole new world of possibilities for entertainment and activities. Digital party games can actually be a great way to make virtual parties more fun, while at the same time working as an effective team-building exercise. Video games can be great fun, such as "You Don't Know Jack" quiz games or challenging multiplayer games like the Overcooked series. Not only are these a blast to play and stream, but they also inspire cooperation and bonding.
Why Not Postpone?
There's no rule that says a holiday party has to happen in December. Of course, you might miss out on the festive spirit of the holiday season, but there's a novelty in recreating that spirit outside of its normal timeframe. "Christmas in July" is a thing, after all, and you don't have to put up with the cold weather.
Whether you rebrand it as a summer bash or decide to go the "Christmas in July" route, your employees might be safer if they can be patient. Of course, we don't know how long the pandemic will last and when things might be safe again to return to normal. So this might be a difficult promise to keep in a timely manner.
Play It Safe!
The truth is throwing an in-person holiday party this year is not a great idea. Your best bet is to avoid it all together by going virtual or simply postponing until next year. Your employees will understand, and in lieu of a holiday party why not spend that money directly on them? To make sure your employees still feel appreciated this holiday season, you could always give them a nice bonus or invest your party funds in employee holiday gifts instead.
If you're thinking about gifting your employees something nice in place of throwing a corporate holiday bash, holiday-themed gift cards are a great option. It's a gift that's as versatile as cash, but more personal and special. You can even customize them with your own messaging and pick a nice festive design for the cards.
We're all in this together as the pandemic continues, people are used to making compromises. The important thing is you find a way to give your employees a bit of fun and let them know their work has been appreciated, especially this year.
Start Rewarding with Awards2Go
Take advantage our low per card fees, flexible load amounts, customized messaging, low cost company-branded design, rush delivery, and more.
Get Visa Cards